Ombrogialos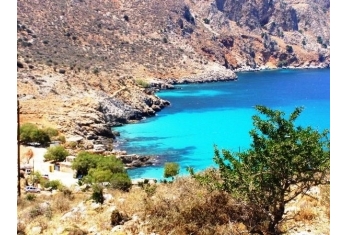 As you leave Drapanos – following signs to Kefalas – less than 2 kilometres along the road as you are climbing a small hill, there is a sign to the left to 'Ombrogialos'. There is also a drawing of an Octopus and you might decipher the word Taverna. More later.
Follow the sloping twisty road down to the sea and you will be soon driving through Ombrogialos. The bay here is a favouite place for swimmers and snorkellers - it is very peaceful and unspoilt.
Ombrogialos has aspirations to grow to the size of a hamlet. I know there are some permanent residents there because I've met them. The last census however doesn't seem to recognise their existence.
As you've gathered, Ombrogialos is a very small community, simply a smattering of houses on a hillside. What you may not know is that the hill looks out over a beautiful blue bay to Rethymno – the views are spectacular.
This little community has essentially been built in the last 10 years. The exception is the wondrous taverna at the bottom of the hill which sits at the side of the lapping sea. This old fish taverna has been there a long time. It used to sell nothing but fish but now there is a full menu.
The Taverna (known as 'Octopus') is owned by Nikos and his Russian wife Katerina. They will make you very welcome and the food is wonderful. There is a large sheltered, glassed covered area that sits 2 metres above the sea with an additional area outside. In addition there are various stone 'feautures' (see picture below) that someone made some time ago. The view over the large bay is second to none. There is no beach but you can sunbathe around the rocks and swim from here. There is a small slope to launch boats – no one seems to bother – but many people swim in the beautiful clear blue sea. It's a fantastic place to spend some quality time.
There are caves, reputedly containing a hermit and a path to scramble across the rocks around the around the bay – probably not for the faint hearted or small children.
Ombrogialos is obviously a very peaceful and scenic place to live or to stay. However, it's also convenient for the amenities at all the surrounding villages. Kefalas, Drapanos, Vamos and the beaches at Almyrida are all within 5 – 10 minutes away. The taverna at Paleloni is also just 2 minutes away from Ombrogialos.