Nippos
Nippos is part of the Chania prefecture and is part of the municipality of Kryonerida – along with Alikambos, Vatoudiaris, Vrisses, Vafes, Embrosneros, Maza, Chabatha and Fones. Most of them being villages with which, you may not be very familiar. Vrisses has all the amenities you could wish for - 4 minutes away - with some great tavernas, a public swimming pool, a lovely river flowing through, many shops, supermarkets, petrol station and a wondrous car repair 'shop' run by Giorgos. (He maintains my car)
This is a seriously unspoilt and beautiful area of Apokoronas where the Cretan villagers are still extremely traditional in their culture and outlook on life. There are approximately 200 permanent residents in Nippos.
I have seen Nippos described on the Internet as a 'virgin' area – surrounded by nature and greenery. That description portrays the area very well. Having said that, it's only a couple of minutes drive to both Vrisses and the highway. The beach resort of Giorgioupolis is also only 5 minutes away.
This is a small village set in a valley with some wonderful views across to the White Mountains. I've been to Nippos many times and the wonderful green scenery and many pine trees often remind me of the Austrian Tyrol.
In the square you can sit outside the traditional old kafenion before travelling 6 metres to the really great Taverna at the side of the building you are in. The food is excellent and there will be traditional music throughout many of the summer nights. The name of the taverna is ΙΠΠΟKΟΡΩΝΙΟΝ (see right) . 'Ippokoronion' translates as ..... which apparently reflects the owners love of horses.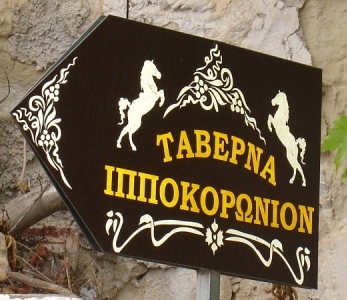 So, if you want to live in a really old style peaceful and quiet traditional Greek village (renovation or newer house) but still be near some of the more developed villages, Nippos is for you.
Nippos of course has a number of churches. The church of St George has its' name day - like all other churches. However, unlike many others, this day is seriously celebrated within the village. The celebrations are organised and led by a fiery but wonderful lady called Agnes. Agnes was born in the village and has returned there after a life spent in America. Speaking English in her broad American accent - outspoken / loud / opinionated - Agnes leads the celebrations and appears to do most of the cooking for the churches name day. Vast amounts of food and drink are consumed by the locals over a two day period. My friend Keith who lived in Nippos used to say that she started cooking the month before!