Kefalas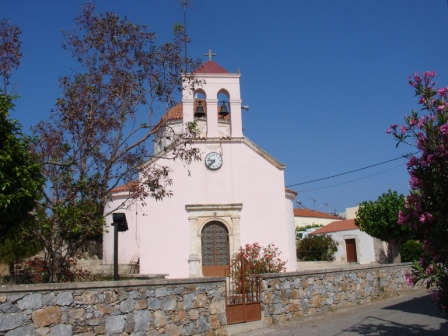 You can find Kefalas by ether following signposts from Drapanos (via Paleloni) or from Vamos (via Xirosterni). It is about 4 km from each of these villages. Kefalas is a large village situated on a hill which is quite high for the area – 280 metres above sea level – and as a result many of the houses have great and panoramic views. At various points you look over Giorgioupolis Bay to Rethymno or to the mountains inland. From some houses, you can see both.
A long time ago, Kefalas used to be a rich and powerful village in the area. Kefalas has about 300 permanent residents. It also has some history – the first residents who gave the village its name were the Kephalades who were the leaders of the Byzantine settlers sent to Crete in 1182.
The main part of the village has interesting architecture (mainly Turkish) with some lovely old stone houses and of course churches – eight of them. The oldest is Timios Stavros from the 16th century. There are also a number of narrow streets and nearly all the houses are lined with flowering bushes.
The traditional, simple way of life is still the way for the vast majority of villagers. Agriculture used to play an even bigger part in every day life as there is an old windmill on the outskirts of the village as you enter from Drapanos. In addition there are a number of 'Aloni' scattered around the village – these are stone circles where corn was threshed by donkeys.
It is a thriving village with a couple of tavernas, 2 mini markets and a few kafenions.
'Maddies' kafenion in the square opposite the war memorial is run by 'Maddie' and her husband. This is a great meeting place and a great venue for local musicians and music (Traditional Greek / Popular European / British music and more! ) There is also the occasional quiz and always really good food and (if you wish) Pizzas!
The 'Public School of Kefalas' is a grand old building which has been renovated and now houses the' Environmental Education Centre' for the area. This often means coaches of school children coming to Kefalas during the day to learn more about their impact on the area and the world outside.
There are some new houses on the outskirts of the village. All of them are tastefully done and the owners have blended in well.